ATVs, Waterfalls and Turtles
Having traveled from Maui to the Kauai, it was time to start our next set of adventures. What better way to start that than with an ATV offroad tour through Jurassic Park. The Kipu Ranch where our ATV tour took place, has been used in numerous movies like Jurassic Park and Indiana Jones!
This is a clip from Raiders of the Lost Arc. Skip ahead to the 1 minute mark where Harrison Ford uses a vine to swing into the river. I had the chance to channel my inner Indiana Jones and take a swing for myself!
The perfect finish to our ATV tour was to take the plunge into the refreshing cool water in a waterfall pool.
On the tour, we talked to our guide about how we had hoped to see some green sea turtles on our trip and were disappointed to not have seen them on our snorkeling trip to Molokini. He mentioned us to a few spots, but thought Poipu Beach might be our best bet.
With this knowledge in hand we turned back to our trusted Gypsy Guide. Along the way to Poipu we would learn more about the history of Kauai and King Kamehameha.
I think the most amazing thing about this trip to Poipu Beach was how lucky we were with our timing. No more than 10 minutes at the beach, we walked along the shore and something caught my eye. After a few more looks I tapped Meg and said "Look". No one else was around and she had no idea her dream was about to come true! When she finally realized it was a green sea turtle (and not just a floating rock), her jaw almost hit the sand. I was so surprised that this massive turtle was able to make it to the shore undetected by the numerous people swimming and snorkeling in the water.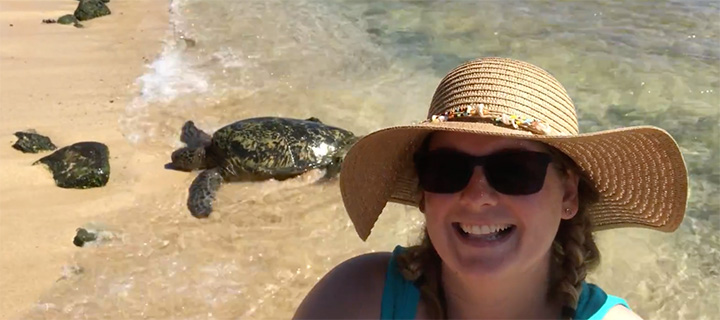 Knowing that we might just have hit the jackpot, we needed to go and rent some snorkeling gear nearby.
When we went to Molokini we knew there were going to be fish – it was a protected area. However, we did not expect to see as many fish as we did once we ducked our heads under the water at Poipu Beach. Meg even let out a soft squeal once we saw how many and how closely the fish were swimming with us. There may have actually been more varieties there than on our snorkeling tour.
Although our Molokini tour was amazing, it was hard to beat the price of renting our own snorkel gear and going just meters off the shore.
After snorkling for a bit on our own, we took a short break seemly having missed the opportunity to swim with the turtle. There was a small island outcrop from the main beach area that we decided to swim out to. Our timing was impeccable yet again when I heard faintly someone say "turtle". I immediate sprang into action as Meghan fumbled to get her water-shoes back on. Not knowing if I actually heard them right I dove in and was instantly rewarded. The one thing we had wanted to see was right there in front of me.
It truly was a magical day! Perhaps the best of our vacation. Enjoy our video recap, we sure did.