Review: Foscam FI8910w First Impressions
Last week I ordered the Foscam FI8910w to be used as our video baby monitor solution after taking into consideration some of the feedback from my earlier post Searching for a better baby monitoring solution.
I ordered it online at foscamcanada.com for $99 with free shipping. But wait… there was a spot to put in a promo code! I did a little Google search and found the promo code "Happy". BAM, $20 off. So I walked away with this camera for $79, WOOT!
After playing around with for a few days I wanted to give a quick review of it (my first review). Here goes….
Look
This camera is a lot smaller than I thought it was going to be, as Meghan said when she first saw it, "look at the little robot". We decided to get it in white because we are using it in the baby room, but it is available in black if you want a different look.
For a full featured camera with full pan and tilt, infrared night vision and built in Wi-Fi, it's a very compact unit. It seems to be well built and engineered. As I continue to use it I will see how long the little motors continue to work for the life of the device.
When researching this camera there were some reports of a flashing network light inside of the base of this unit that you could not turn off. Perhaps Foscam fixed this issue in the latest firm ware as I have not seen this issue with this version of the camera.
Setup of the Foscam FI8910w
The Foscam FI8910w comes with a CD to install a little IP camera utility for either PC or Mac, it basically listens to the network until an cameras are connected. This was very easy to install, but after running it I was almost expecting something more to happen.
This camera comes with an option to connect it to your home network using WPS if your router supports that, my new router does so I gave it a try. However, it just didn't want to connect… So skip to the wired method. As soon as I attached it to the LAN cable it was picked up by the IP camera program and started broadcasting the video feed right away. This camera has a built in web server so that you can view the feed and administer the settings. From here I was able to manually connect to the Wi-Fi. This should have also been super easy, but there was a strange issue where it just wouldn't fully connect. After reading a bit I found that for some reason this camera which supports 802.11 b/g/n, it has a hard time when the router is run in mixed b/g/n mode. Once I set it to fully g, it connected great. I contacted Foscam to see if there a fix for this. They suggested updating the firmware, but also said that it only supports 802.11 n over 2.4 GHz band. I am still waiting for some more information, so I will update this post when I find out more.
Video Quality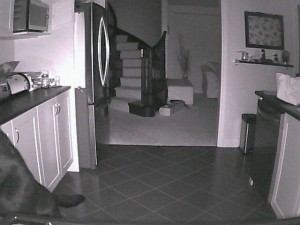 The Foscam FI8910w comes with the option of two resolutions: 640×480 or 320×240. This camera comes equip with infrared sensors to allow for night time viewing (essential for a baby monitor). When I got it I set it up in our kitchen and caught our counter surfing dog Guinness! The quality of the day and night cameras are really good. During the day the colours are pretty spot on, and at night the black and white gives a clear view of what is going on even when there are no lights on. Here are a couple of samples.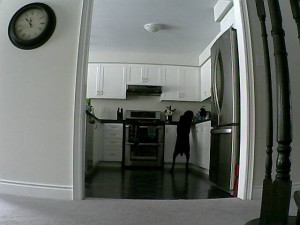 Motion and Audio Alerts
The Foscam FI8910w comes equipped with the ability to capture still images when motion or change is sound is detected. This was the feature I used to capture Guinness misbehaving. These images can be set up to be taken every few seconds and can automatically uploaded to a FTP server. I have a hard drive connected to my router as a NAS that has been set up a FTP server for these to be stored.
It is possible to play around with the thresholds so that ambient noise or small motions (like a small baby movement) don't set off the alarms to capture these when they aren't needed.
Web UI and Apps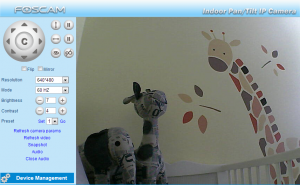 Built into this tiny package of the Foscam FI8910w is a built in web server that allows you to view as well as administer the camera's settings and features. It gives you full control over the camera, which allows me to pan and tilt the camera around the room to make sure I can see everything.
There are plenty of apps out that support the Foscam FI8910w (as well as other models) either for the iPad, or BlackBerry PlayBook. I'm sure there are for Android as well but I don't own one of those… I am still playing around with some of the free versions before I purchase an app, but so far the ones that I like seem display the video quite well. Most of them support the motion and audio alerts and allow me to maneuver the camera around the room very easily. They also support the two way audio, which allows me to talk through my iPad or PlayBook and have it play from the camera. When I have a chance to use some of these apps a bit more I will write a post as a review of those as well.
*UPDATE* – The app that I found to be the best is called tinyCam monitor ($2.99). I am using it on my BlackBerry PlayBook, my wife's BlackBerry Q10 and my BlackBerry Z10. It was originally a Android App so it's available for those devices as well. It is a great full featured app that allows me to control the camera but also use the two way audio feature. There are a bunch of capturing features that all you to upload snapshots after motion or audio detection to FTP or Dropbox. The last feature that I like is that you can define both a local and a remote url for the camera. Once I go out of my wifi range it will auto switch to use the remote url so I can continue to view the camera even when I am not home!
Remote Viewing
The one nice feature of this type of camera, is it allows me access to remote viewing from anywhere in the world. When it's set up correctly it's basically a web cam and setting this up was pretty straight forward. If you don't have a static IP you are going to want to look into a service like DYNDNS. The camera did come with this, but you'll see why later why I decided to use my own.
With DYN set up I just had to set up my router to allow requests to pass through the firewall. I won't get into how to do this as there are a lot of great guides out there. Again this was pretty easy.
Paired with some BlackBerry apps I am able to view this camera on the road, at work, in the backyard (out of reach of normal baby monitor range), and any where else that I need to view my kid.
Cons
The Foscam FI8910w is a very good camera but there are a few things that it could do a little better. Unlike many cameras this one does employ pan and tilt but there is no zoom capability. This may be an issue for some, but for my purpose in a small room I am fine without it.
Although the video quality is good, it could be better. There is an upgraded version of the FI8910w, the Foscam FI9821w. This camera includes a 720p camera and uses H.264 video compression instead of MJPEG. This model also includes an SD card slot for local storage of video and images.
Security issue
I found this part a little concerning… there is a little security flaw when using the default set up of the Foscam FI8910w. It comes defaulted with a dyndns domain to remotely connect to the camera. Even though you may not have port forwarding turned on, it some how still gets through. Given that you have left the default user and password anyone who is trolling around the predefined domains for these cameras, could connect to it. I found this out personally when (because of the two way audio) I heard Gagnam style coming from my camera… Let's just say this was a little concerning.
After you reset your password you would also want to walk through this post, to remove the connection to the dyndns domain name.
*UPDATE* – There was a recent issue similar to this that got some national headlines. I did get an email from Foscam in light of this event to help people better secure there cameras. First and foremost you need to update the cameras firmware. This is very easy to do through the web UI interface. They also suggested changing the default form from 80 to something higher than 8000. This will make it harder for a potential hacker to connect to the camera in the first place. Lastly, and this should be the most obvious, you need to change the default password and use something that is strong.
Final Thoughts
This is a very good camera at a really great price. They say you get what you pay for, but I think I got more than I paid for here.
If you are looking for an inexpensive alternative to the expensive branded baby video monitors, then I think this is a perfect option.
Buy Now