Review: Philips AVENT Basic Baby Monitor
In my past post I was looking for a better baby monitoring solution and talked about some of the different kinds and the pros and cons of each. I did end up with a video monitor as I reviewed earlier in my Foscam FI8910w review. Which you may be asking, why do they also need an audio only monitor?
There are a couple of reasons why we decided to go with an audio only as well. First, it gives us piece of mind if the wifi ever craps out and the video monitor stops working. Second, it's easier to take to the Grandparents house and setup. With the camera, I would need to set up all the connections, which would just be a bother. Lastly, the video monitor is mounted in the nursery so if we wanted to monitor him somewhere else in the house it's easier to move this one around.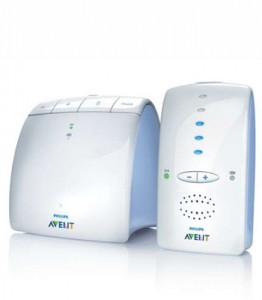 When looking for an audio only baby monitor I was looking for something that was reliable, clear and easy to use. Having used the Philips AVENT Basic Baby Monitor with DECT Technology during our niece's recent stay with us, this one seemed to fit the criteria, and my brother-in-law seemed to like it as well.
Form factor
Both the base station and the parent handset have a sleek and polished look. They aren't so big as to look out of place and hard to hold or too small so that they are hard to use and easier to lose.
The base station blends in well with the decor of the nursery. We don't even really notice it at all. It also has a built-in nightlight, but it's almost to dull to light up the room at all.
The parent unit is a great size and it's not too heavy to attach to your pants or as my wife likes to do, the shoulder strap of a tank top.
Setup
Setting the monitor up was very easy once the handset was charged. With the press of a button on each unit they were paired. Just don't be a hero and try and do it without the instructions. They were printed for a reason and there is no shame in using them.
Ease of Use
This monitor is very easy to use. It doesn't get much easier than pressing the power button. It's comforting knowing that it's simple and not much can get in the way of monitoring my child.
The sound is pretty clear but when things are silent there is a lot of white noise that it picks up. It's not enough to keep you awake but you can kind of hear the static faintly.
When it comes time for Nathan to let us know he needs us, it kicks into high gear. We can easily hear him, sometimes too well. There is also a nice sensitivity setting so that you can turn down the sensitivity to only catch the loader noises and not his creaky noises. The parental unit also gives a visual cue along with the audio cue. There are 5 LEDs on the face, that light up depending on the level of noise. So even if you turned the volume way down while you watched the TV, you can still see the lights going when your little one is fussing.
With the DECT Technology, we don't have any issue with interference from our existing cordless phone, the wifi or the microwave. You can rest assured that when your baby cries you will hear him.
So far with the parent unit battery life has not been an issue. We have been able to go a couple days without needing to recharge. However, when it does get low it will remind you. The unit gets a little annoying since it continues to beep until I attach it to power. I'm sure this wouldn't be nice in the middle of the night, as I struggle to find the cord to plug it in. I would suggest keeping it charged, but keep in mind it's a lithium-ion battery and keeping it plugged in all the time will eventually kill the battery life all together. Letting it fully drain occasionally is always a good practice to extend the battery life.

Overall
Overall the Philips AVENT Basic Baby Monitor with DECT Technology is a very good baby monitor and it compliments our video monitor very well. If you are like me and are looking for the best of both worlds this is a great choice. Of course if you are looking to go audio only then you should really have a look at this one. The price is great and it does exactly what you need and nothing more. It's not going to give you the temperature and humidity in the room, but do you honestly need that? Once you throw more features into a unit, it raises the potential for something to go wrong.
Buy Now