East Coast Trip – Nova Scotia
Day 1 – Halifax
After a great day on the course at Crowbush we both had a good night's sleep to prepare us for the drive to Nova Scotia. We decided to head back over the Confederation bridge instead of taking the ferry across. It was easier for us timing wise since we could go at our own pace and without a schedule.
A few hours later we were in Nova Scotia and heading straight for the Annapolis Valley for lunch at Luckett Vineyard. When we arrived we thought there might be a wedding going on since the place was packed with a big white tent up. Lucky for us, it turned out it was just an overly busy Sunday afternoon… We were warned that wait times might be a little longer, so we figured we would order then go and do a wine tasting. There were definitely some good wines, but it's not really a taste that I have acquired yet. However, Meg seemed to have enjoyed them all.
Once our meals arrived, we were both very happy with what we had. Meg enjoyed her seafood panini, and myself I enjoyed the lobster cake.
Since we were already in the Annapolis Valley we stopped by L'Acadi vineyards for another tasting and to pick up a couple bottles of red wine, if you can believe it!
With lunch and wine tasting completed, we were ready  to head for Halifax. We went to the harbour to catch the Harbour Hopper tour. We were taken through some of the historical areas downtown and finished the tour in the Halifax harbour. Thankfully the tour bus is also a tour boat so it was safe.
After the tour it was time to grab some dinner (specifically, oysters!) before we left Halifax to check in at the B&B. We saw Waterfront Warehouse while on the tour, and after a look at their menu with a great selection of oysters and a recommendation from our Harbour Hopper tour guide,  we headed over to grab a table. We decided to go for broke and went for the 13 oyster platter. And… there were great! Nothing to worry about. They came with a variety of toppings from a corn chutney to good ol' horseradish. We tried each, even had a few au naturel, or like our waitress suggested, with a splash of lemon juice and tabasco sauce.
Once we polished those off they brought even more seafood. Meghan had a seafood pasta and I had a classic fish and chips. Both were delicious but gave Meghan a huge craving for more scallops!
With a full belly, we wandered a little bit more around Halifax harbour and grabbed some delicious Cows ice cream, snapped a couple photos outside of the Alexander Keith's Building, then headed for check-in at our B&B.
I had found Anchors Gate B&B when searching for a different place to stay just outside of the Halifax Metro area. It was situated right along one of the many bays, between Halifax and Peggy's Cove. However, the photos really didn't do it justice. Meg really hadn't seen too much of it before we got there, so she was really taken aback.
The owners Nancy and George have been running this place for 17 years and were very warm and friendly.
Day 2 – Lunenburg and Peggy's Cove
We ate a delicious breakfast with the rest of the guests at Anchors gate, and did a quick video chat with Nate before we made our way to Lunenburg and Peggy's Cove. Lunenburg wasn't really a planned stop but after hearing about it from the other B&B guests, we decided to give it a shot. It took a little over an hour to get to Lunenburg, where we visited the interesting and something-for-all-ages Fisheries Museum. The had a collection of live Atlantic fish in the aquarium, and retired ships in the harbour that you could tour through. At the end of the pier there was a "petting zoo" where you could hold crabs, starfish and even scallops. The scallops were particularly interesting – when we took them out of the water, they would open and close and squirt water in the air like a little squirt gun.
One of the other draws to Lunenburg was the Bluenose II as it was docked there to under-go some repairs. If you talk to a local about the Bluenose II you quickly find out that it's a sore subject. American engineers, and way too much money being spent in the wrong places…
In Lunenburg, Meghan's scallop craving reached an all time high, so it was necessary to find a restaurant with good scallops ASAP. Lucky for her we didn't need to go to far. We decided on the Grand Banker, and it didn't disappoint – Meg's craving was finally satisfied… for now anyways.
Next we were on the road again to head to Peggy's Cove, where we had planned to go on a lobster boat tour. However, mother nature had something else in mind. By the time we got to Peggy's Cove the fog had rolled in, the temperature had dropped 5 degrees and was getting quite chilly. We assumed it would only get colder on the water, so we decided to pass. We did still tour the little fishing village and the light house that stands on the granite shores, as well as visit the site of the Swiss Air Flight 111 monument.
With the Lobster boat tour out the window, we needed to track down another place to grab something to eat. After talking with one of the ladies in the tourist information building, we headed down the road to rhubarbs restaurant in search of some warm seafood chowder to take off the chill. We also grabbed some more mussels for one last taste before we left.
It was a great last full day in the maritimes!
Day 3 – Granite Springs Halifax
Our last day out east started with another great breakfast and conversation with our gracious hosts at Anchors Gate B&B. Our original plan was to get one more round of golf in before we left to catch our flight, but unfortunately the weather again didn't want to cooperate. We probably could have gone out but we ran the risk of freezing and getting soaked so we will need to go back some time soon.
Instead we decided to go back into Halifax and tour around a bit more. We were told to visit the Maritime Museum, and who are we to turn down a good recommendation? Although neither of us have a huge interest in ships, it was still interesting to see some of the old artifacts and facts about the maritime history in Halifax including the Titanic and Halifax explosion.
Once we finished at the museum we headed for our last lunch. And of course it needed to be seafood! We had another great recommendation for Five Fisherman. Meg (surprise, surprise!) still wanted scallops, and I was looking for a lobster roll which I had yet to eat. Both we delicious!
With our fish quota reaching an all time high, we headed for the airport to make our way back home to Ontario to see our little boy.
What a trip!
The maritimes are an amazing part of Canada that all Canadian's should experience at least once. Everyone is as friendly as people say they are, and even if you don't like seafood trying it here could change you mind.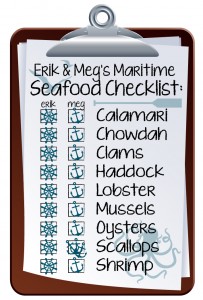 We traveled 1641km in our rental car while trying to see as much of New Brunswick, PEI and Nova Scotia that we could in such a short period of time. It would have been great to have 2 weeks but we just couldn't spend anymore time away from Nathan. Our next trip within Canada will definitely include Nate, so he can experience this great country.
Of course I can't forget to complete our seafood checklist! We did it, we completed it! Even raw Oysters, yeah I said raw! Notice Meg's enthusiasm about scallops.