East Coast Trip – New Brunswick
Day 1 – Hopewell Rocks, NB
Day one started around 6:45am after only 3-4 hours of sleep since we didn't get into our hotel room until after 2am. However, I still believe it was worth it so we could fully enjoy our first full day!
Our first trip was to the Hopewell Rocks on the Bay on Fundy, which has the highest tidal ranges in the world. This place is special since within an afternoon you can noticeably tell that the tide has changed. To get the full experience, we went kayaking (with Baymount Adventures) in the morning and then within an hour, went walking in the same spots that we previous kayaked through.
To give you a sense of the change, here are a couple examples of the same areas at high tide and low tide.

In the afternoon when we walked around we saw a lot of these signs in areas that we had kayaked. I suppose that was one of the perks!
We finished the day at Tide and Boar Gastropub which was recommended by one of my co-workers. Their chowder was ridiculous!
Day 2 – Saint John, NB
We started the day with a little Skype video chat with Nate. He was as happy as can be, which made it easier to relax and enjoy ourselves. After the call we hit the road for the 1.5 hour drive to Saint John for our zip lining adventure!
We arrived a little early so we headed over to take pictures of the reversing falls. This may be one of the only places where the water flows against the natural current. When we arrived, the water was flowing right to left, but when we returned an hour and a half later it had reversed to it's natural left to right flow. It was definitely a mind bending experience.
https://www.youtube.com/watch?v=7-rOHjxDLkI
After a quick bite to eat we headed over to Saint John Adventures zip lining tour. There was no one else there so it was just Meg and I that went up. It was nice since we didn't have a long wait between runs and it wasn't too crowded up on the platforms.
After we climbed to the top, Meg said her adrenaline was already racing. However, once she just let go it felt great! We finished on the final run with a little race in a side-by-side zip line. Meg won fair and square but I thought she was taking video of it but instead she was trying to take photos of me and only caught my head once in 5 tries…
https://www.youtube.com/watch?v=5DShUrYQbGY
Overall, it was a great experience. Meg was able to knock an item off her bucket list, and would easily recommend this for to anyone looking for something to do in the area. Even if you might be a little afraid…
After our heart rates returned to normal, we headed out in search of a beach to relax. We found Dominon Park which had a nice little beach that filled up quickly after we arrived.
Meg was quickly bored (to my surprise) since she hasn't really had more than 30 minutes to relax in the last year. After some searching we found our next destination, Fort Howe. From here we got a great view of the city and a close up of the Saint John sign.
We stayed in Saint John for dinner and went to the Market Square where we had some great sea food at Grannan's. Meg fell in love with the Moosehead Radler, which apparently is only available in the maritimes (UPDATE: Moosehead Radler is now available in Ontario! Meg is very happy.), so she better get her fill! We started with the calamari and I'm apparently on a chowder kick and decided to have another bowl since it was one of the Grannan specialties. Meg had the mango salsa fish tacos and it was all delicious!
On our way back to the hotel, we decided to go see what the Magnetic Hill was all about. Apparently, it's actually just an optical illusion, but telling yourself that is still very hard.
https://www.youtube.com/watch?v=a225INkADgA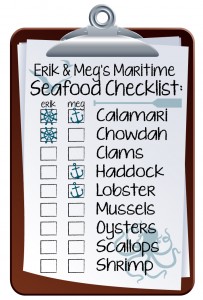 One of our goals for this trip was to try as much seafood as possible. You don't get much fresher than on the coast! To help us we made a checklist to follow along from province to province as we worked to complete it.
New Brunswick was an incredible place to visit, and it's hard to believe that we were still in Canada!