2013 Year in Review – Thanks WordPress
I was thinking about doing a little year in review post, but last night I got an email from the great people at WordPress and they did a nice summary for me.
The way they presented it was pretty great looking as well. See it here.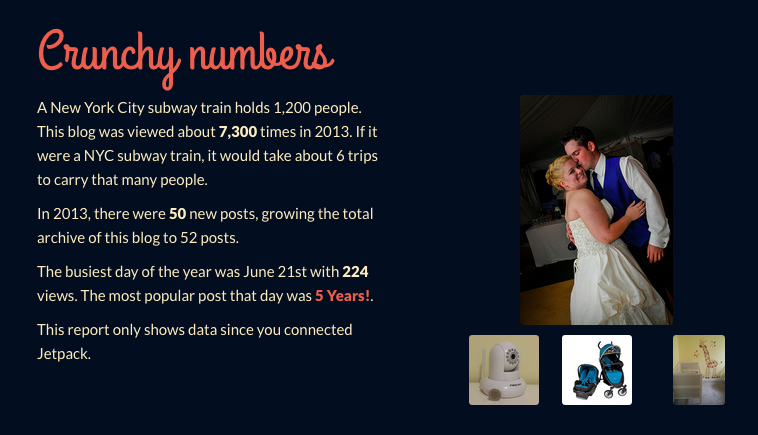 Doing this blog for the first year has been a great opportunity to share with everyone (who is interested) what is going on with our little family. Also it has given us a nice little archive of all of Nathan's milestones, be it written or video format. I have never been much of a writer but I have to say this has been a very fun experience.
One surprising outcome from this WordPress report as well as my own Google Analytics reports (I could write a whole post on why Google Analytics is so amazing… but maybe another day), is that the reviews that we have written bring a lot of organic traffic to our website. People seem to really like our reviews of our Foscam camera and the Eddie Bauer stroller. Both of these have averaged around 15 minutes and 7 minutes on page per visit respectively. I think it makes sense to write more of these as we make some new purchases.
Likely the biggest surprise was our most visited day… our anniversary, when I wrote our 5 year post. It seems like a lot of new people finally found our family website when it was posted to Facebook, and visited a bunch of pages after reading the 5 year post.
Unsurprisingly one of the most popular posts was Nathan's first post about his journey into this world. To date it has been viewed around 200 times. This was also likely the most creative and fun post that I wrote. Perhaps because writing like a new born child is right up my alley.
The three of us look forward to bringing more posts in 2014, maybe you might also see a guest appearance from Guinness!
Thanks for sharing 2013 with us.
Erik, Meghan, Nathan and Guinness!